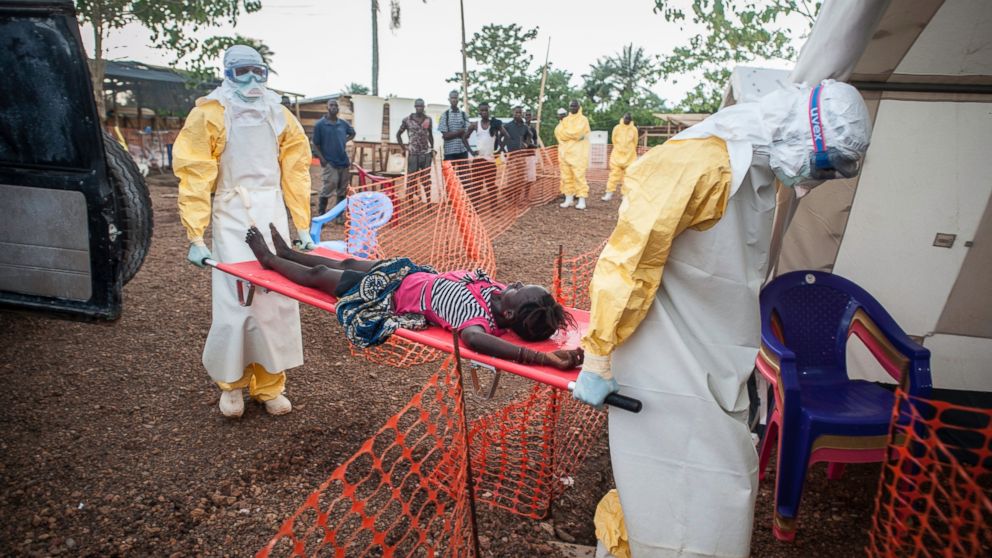 Two Ebola patients, who died of the virus in separate communities in Nimba County have reportedly resurrected in the county. The victims, both females, believed to be in their 60s and 40s respectively, died of the Ebola virus recently in Hope Village Community and the Catholic Community in Ganta, Nimba.
But to the amazement of residents and onlookers on Monday, the deceased reportedly regained life in total disbelief. The NewDawn Nimba County correspondent said the late Dorris Quoi of Hope Village Community and the second victim only identified as Ma Kebeh, said to be in her late 60s, were about to be taken for burial when they resurrected.

Read more at http://www.snopes.com/info/news/ebolazombie.asp#2ZlRP6eUksShkQLe.99

West African Ebola Outbreak is a Hoax
Make no mistake about it the claim of a West African Ebola outbreak which has made it to the Western world is a fake and a hoax. The photographic evidence does not support the existence of a real outbreak and, rather, demonstrates the degree of the fraud.
What is surely fraudulent is the claim of there are active cases of Ebola in the Western world. This is entirely fake; there are no US cases nor any cases in Europe, whether Eastern or Western.
Nevertheless, this is clearly proven by the video created by Higher Truth Channel. The videographer has done a superb job proving that this is absolutely a fraud:
The people in the white and yellow suits are staging agents. The girl on the stretcher is in all likelihood a crisis actor. It's all a fake. No one died, and no one was injured, and this is absolutely the case for all acclaimed Ebola patients transported to the US or other Western countries.
There are no such cases of Ebola in these countries. It is all a diabolical lie.
the APPEARANCE of this Ebola "pandemic" (should Americans not catch on) will be used to scare the countless millions into taking an "Ebola vaccine" which in reality is the pandemic. Already they have started with stories of how it has been brought to the U.S. and has appeared in Dallas, how white doctors were cured but black infected are not being allowed to be treated, etc.
ALL that will do is make blacks STRIVE to get the vaccine, because it appears that the "cure" is being held back from blacks. They will run out in droves to get it and then there will be serious problems. With all we have seen revealed about vaccines this year you would think we learned our lesson. All I can do is hope so, Because they rely on our ignorance to complete their agendas.
Ask yourself: If Ebola really was spread from person to person, instead of controlled spread through vaccination – then WHY would the CDC and the US Government continue to allow flights in and out of these countries with absolutely no regulation, Or At All? We have got to start thinking and sharing information globally because they do not give the true perspective of the people who live here in West Africa. They are lying for their own benefit and there aren't enough voices out there with a platform to help share our reality. Hundreds of thousands have been killed, paralyzed and disabled by these and other "new" vaccines all over the world and we are finally becoming aware of it. Now what will we do with all this information?"
- See more at: http://www.spiritscienceandmetaphysics.com/ebo-lie-man-living-in-ghana-confirms-ebola-is-a-hoax/#sthash.V3kn60ws.dpuf
healthimpactnews.com/.../similarities-between-1976-swine-flu-hoax-and-...
Oct 16, 2014 -

Is the

Ebola

virus a local epidemic, a global pandemic, or a

hoax

? Is life in America as we have known it about to collapse into chaos and ..