JERUSALEM ?
PERFECT STONEHENGE?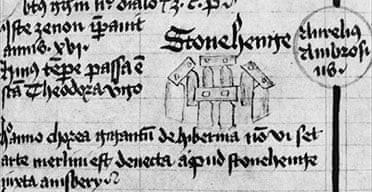 GIANT STONEHENGE?
The
earliest
surviving
written
references
to Stonehenge
date
from the medieval
period,
and from the 14th century onwards
????????????
.
.
.
The entire period of the archaeological evidence of task Stonehenge at the end of the Bronze Age to the conquest of England by the Normans, is located in the historical dark. The first mention of Huntingdon Henry returns to the year 1130 in his History of England, in which he counts "Stanenges" on a short list of famous monuments in England. Detail is dedicated to Geoffrey of Monmouth, the stone circle in its history, written in 1135 about the Kings of Britain. He attributes the construction of the monument to the magician Merlin.
The first pictorial representations of the plant are from manuscripts of the 14th and 15 Century. Since 16 Century, there is a relatively realistic visual representations.
The historian Polydore Vergil (1470-1555) takes up Monmouth's narrative and also explains Stonehenge as a memorial, which was built Merlin the magician at the time of the conquest of England by the Anglo-Saxons with the help of his magical powers.
"Druids sacrificing to the Sun in their temple
called Stonehenge", a 1722 engraving of the site
as imagined by William Stukeley